How To Select A Landscape Design Service in Palatine, IL
Palatine, IL is home to many beautiful and diverse properties, each with their own unique style and character. When it comes to designing the perfect landscape for your home, it's important to find a company that understands the specific needs and challenges of the area. Wave Outdoors Landscape + Design is a local company with years of experience helping homeowners in Palatine create stunning outdoor spaces that reflect their style and personality.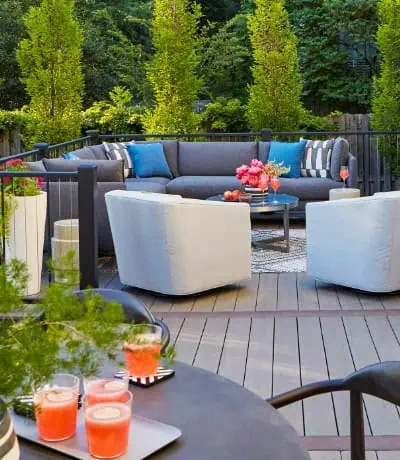 Do your research before choosing a landscape design company
When designing your landscape, it's important to consider the style and design that will best suit your home. Depending on your property, you may want a more traditional, classic garden, or something more modern and minimalistic. The style of your landscape should be guided by your personal preferences and the architecture of your home. A traditional garden may be more suitable for an English or French home, while a modern design may complement a contemporary home. Wave Outdoors Landscape + Design has experience working with a wide range of styles and designs, and their team can help you choose the perfect one for your home.
Landscape Designer Consultation
Understand Your Home's Needs
In addition to considering the style and design of your landscape, it's also important to think about the specific needs of your home. Take into account the size and layout of your yard, as well as any functional requirements you may have, such as a playground for children or a designated area for entertaining guests. When selecting materials for your landscape, consider environmentally friendly options like recycled mulch, wood mulch, and cedar mulch. These are all natural and organic materials that are biodegradable and protect the environment. If you're planning on planting a variety of flowers in your landscape, be sure to consider the type of soil you have. Different types of soil may require different types of mulch, so it's important to choose the right mulch for your specific needs.
Hire A Designer With Experience In Your Location
With the right landscape design company by your side, you can create a stunning and welcoming outdoor space that reflects your unique style and personality. Wave Outdoors Landscape + Design is the perfect choice for homeowners in Palatine who want to transform their yard into a beautiful and functional outdoor space. Their team of experienced designers can help you design a landscape that meets all of your specific needs and preferences, and their commitment to sustainability ensures that your landscape will be both beautiful and responsible. So don't wait - contact Wave Outdoors Landscape + Design today and take the first step towards creating the outdoor space of your dreams.
Protect The Environment When Selecting Materials
In addition to considering environmentally friendly materials, it's also important to think about the sustainability of your landscape design. This includes choosing plants that are native to the Palatine area, as well as incorporating features such as rainwater harvesting or drip irrigation to conserve water. Wave Outdoors Landscape + Design is committed to sustainability and can help you design a landscape that is both beautiful and responsible.
Palatine Requirements For Outdoor Work
If you're planning on doing any outdoor work in Palatine, it's important to be aware of the requirements and permits needed. For example, if you want to remove a tree from your property, you'll need to obtain a tree removal permit from the city. Similarly, if you're planning on installing a patio, you'll need to apply for a patio installation permit. These requirements are in place to ensure that all outdoor work is done safely and in accordance with local regulations. It's always a good idea to check with the city of Palatine to see if there are any specific requirements or permits that you need to obtain before starting any outdoor work.
About Palatine
Palatine, IL is a village located in Cook County, approximately 30 miles northwest of downtown Chicago. The village has a population of around 68,000 and is known for its rich history, vibrant community, and beautiful natural surroundings.
One of the key attractions of Palatine is its numerous forest preserves and park areas. The Cook County Forest Preserve District operates a number of parks and preserves areas in Palatine, including Deer Grove Forest Preserve, which features over 2,000 acres of wooded areas, prairies, and wetlands, as well as a number of hiking trails and a picnic area. Other popular outdoor areas in Palatine include the Palatine Hills Golf Course, which offers an 18-hole golf course, a driving range, and a clubhouse, and the Palatine Park District, which operates a number of recreational facilities including swimming pools, tennis courts, and playgrounds.
In addition to its natural attractions, Palatine is also home to a number of cultural and historical points of interest. The Palatine Historical Society operates the Palatine History Museum, which offers exhibits on the history of the village and its surrounding area. The Palatine Art Center, operated by the Palatine Park District, hosts exhibitions of local and regional art, as well as art classes and workshops. The Palatine Public Library is another popular attraction, offering a wide range of books, e-books, and other resources, as well as a variety of events and programs for all ages.
One of the key initiatives of the Palatine government is sustainability and environmental preservation. The village has implemented a number of programs and initiatives to reduce its environmental impact, including a recycling program, a composting program, and a rainwater harvesting program. The village also has a number of green space initiatives, including the Palatine Greenway, a network of bike and pedestrian paths that connect the village's parks and preserves areas.
Overall, Palatine is a vibrant and welcoming community with a rich history and a strong commitment to sustainability and the environment. With its beautiful natural surroundings, cultural and historical points of interest, and a wide range of recreational facilities and activities, it's a great place to live, work, and visit.
Wave Outdoors Landscape + Design
We worked with Mary from Wave Outdoors for our landscaping project. She was thorough and thoughtful in her plan and consistent in communication. Mary earned trust by showing options that would have longevity- native plants, placing plants in shade vs non-shade, and watering solutions. Ultimately, we're so happy with the warmth the design has brought our home, and we look forward to seeing it continue to grow.

Read More

Wow!!! We had a wonderful experience with Wave Outdoors. Wave Outdoors is located in Mount Prospect which was appealing to me to support local businesses.

Brian worked with us from start of finish. He came and walked our property in the beginning and really listened to our ideas and also incorporated his own landscape design expertise. He walked us through his beautiful design and made recommendations for trees, shrubs, and plants that would be successful in our zone.

Our curb appeal went up 1000%. While I have been out watering many people have stopped and commented on how beautiful everything looks. Some have even asked if they could snap a picture or two. 😎

The crews that came in and took all of the old landscaping out, were here each day on time and left the area neat and clean when they were finished for the day.

THANK YOU Wave Outdoors and Brian Dreher for helping to guide us with this project. It truly has been a pleasure working with Wave Outdoors. I would highly recommend Wave Outdoors for any landscaping design, installations, or any other outdoor needs you may have.

Sincerely,

Colleen and Michael Moreno

Read More

Our back yard garden bed (partly in sun, partly in shade), along the rear property line, was in need of some landscaping. Over the nearly 40+ years we have lived here, we had randomly planted several lilac bushes, a few hosta plants, several patches of narcissus, some pachysandra, and a small number of ferns, but there was no unifying design. Everything we had planted competed with weeds and unwanted brush that had sprouted up around them. We had always wanted to look out our kitchen window and see a beautifully planned display of perennials, shrubs, and trees and finally decided to do something about it.
We found Wave Outdoors and started working with designer Mary DiCarlo last fall, after we cleared much of the bed of unwanted foliage and installed a backyard fence to allow our newly adopted rescue dog to run free. We were looking to get a design created and the landscaping installed early this spring.
Over the fall and winter months, Mary worked with us via several on-site visits, email exchanges, and Zoom sessions to finalize a design. Mary was a careful listener and tried to incorporate our wishes from the start, while making several small adjustments to the design several times at our request. Just a few days before the installation, when a particular specimen tree she had planned for us was in short supply, Mary made several weekend visits to local garden centers to find us the perfect tree. This was above and beyond the call of duty!
The installation work was planned for two days in late April, but was completed by the Wave Outdoors 3-man crew, led by Rob, in a single day. Good timing, because the next day it rained almost all day, giving the plantings a good drink. The crew worked hard all day, doing additional unplanned tasks, such as trimming overhanging branches to make room for newly-planted (but sure to grow tall eventually) spruce trees, and also repairing some lawn spots from our dog. They also cleaned up better than any crew who has ever worked on our property.
We are so happy with the finished result already, but knowing that perennials operate in a "sleep, creep, leap" fashion in the three years after planting, we expect the bed to look fantastic over the next 2-3 years as the plantings mature. The plantings were designed to be a mixture of tall, medium, and short heights, of a variety of textures and foliage color, with bloom colors expected in at different times in spring, summer, and fall. The evergreen plantings will remain blue-green throughout the year.
We highly recommend Wave Outdoors and designer Mary DiCarlo for your landscaping needs (they do hardscaping also)! The entire process was well-documented with excellent communication from start to finish. Any small issues found after installation were taken care of very quickly. Initial and final payments were easy using Zelle, but Wave Outdoors also accepts personal checks and credit cards.
Looking forward to warmer weather when we can be outside on our patio enjoying our beautiful new landscape!

Read More

We worked with Brian on landscaping and hardscaping for our Lincoln Park townhome, and they did such an amazing job that two of our neighbors asked for his contact information and at least one of them moved forward with Wave Outdoors too!

Our 100% satisfaction started with consultation on design for a paver patio replacement that includes a small retaining wall and various shrubs/ground cover in several garden beds in the front and side of our home. Brian pointed us to a nearby distributor to choose among Unilock pavers then coordinated three complementary products for the patio itself, the wall, and the wall topper. We are busy professionals and wanted low maintenance landscaping, and Brian's knowledge of good plants for our climate and lifestyle was spot-on.

After an informative design phase (with two in-person appointments that Brian kept reliably and that also included some hand-holding with our HOA to secure necessary approvals), the work crew arrived promptly on the appointed date and worked quickly to complete the entire job in only 3 or 4 days from demolition/removal of the old patio to installation of all hardscaping, plants, and ground cover. We immediately had the nicest patio of anyone in our complex of 48 units, and the high quality generated a lot of neighborhood "buzz" given how visible Brian and his crew's work is for everyone in the complex.

Our only regret is that we didn't go with the sprinkler system that Brian proposed at a reasonable incremental cost that would have saved many, many hours of watering during summer months. We would wholeheartedly recommend Wave Outdoors for any job large or small!

Read More

We had a wonderful experience working with Brian and the Wave crew for our backyard renovation. We wanted a complete gut out of our existing yard so we could start from scratch. Brian started by providing us with a design and worked with us to make sure the yard would be functional, fit our budget and looked beautiful. The end result turned out better than we imagined and we have a completely transformed space. I would definitely recommend if you are looking for someone honest, creative, and does the job right!

Read More