Mundelein Landscape Contractors
As a reputable landscape design, construction, and maintenance company in the northern Chicago suburbs, we are excited to extend our comprehensive landscaping services to Mundelein and surrounding areas.
Our engagement with landscaping reflects a blend of creativity, technical proficiency, and an understanding of natural and architectural aesthetics. The venture into Mundelein is a step towards exploring new horizons, where the historical charm and modern ethos of the village provide a vibrant backdrop for our landscaping endeavors.
Mundelein, with its diverse populace and scenic charm, offers a unique canvas for landscaping solutions. Each project here allows us to engage with different architectural styles, outdoor spaces, and individual preferences, further enriching our portfolio and experience.
As we offer our landscaping services in Mundelein, our objective remains consistent - to provide well-designed, functional, and aesthetically pleasing outdoor spaces. Our services range from garden design and hardscaping to regular maintenance, ensuring your outdoor spaces remain inviting and well-tended year-round.
Our approach is collaborative. We believe in working closely with our clients to understand their vision, preferences, and the existing outdoor environment before proposing a design. This way, we ensure that the resulting landscape is cohesive with the Mundelein ambiance and tailored to the client's satisfaction.
The team at Wave Outdoors Landscape + Design comprises skilled professionals who bring a wealth of experience and local knowledge to every project. Our entry into Mundelein is not just about extending our service area; it's about becoming a reliable part of this community's network of service providers.
We look forward to establishing long-term relationships with residents and businesses in Mundelein, offering services that add value to properties and enhance the outdoor living experience.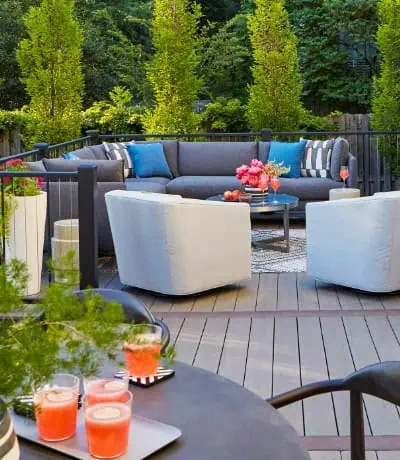 Our Landscape Design Services
Embarking on a landscaping project requires a blend of creative vision and practical planning. We are here to navigate this journey alongside you. Our initial consultations are aimed at understanding your lifestyle needs and design aspirations for your Mundelein property. Utilizing modern 2D and 3D modeling technology, we translate your ideas into a coherent design blueprint, ensuring compliance with local zoning, permitting, and drainage regulations along the way.
Material Selection
The essence of a well-executed landscape project lies in the choice of materials. We offer a curated selection of quality materials, guiding you through the choices to ensure they align with your design vision while adhering to local building standards. Our service extends from material selection to project execution, embodying a client-centric approach throughout the process.
Deck Building
Decks are a great way to extend your living space outdoors. Our deck building services are tailored to create a comfortable and durable outdoor area for your home. We ensure the design harmonizes with your home's architectural style, and adhere to Mundelein's building codes and regulations, delivering a space where you can relax and entertain.
Pool Contractors
A pool can be a refreshing addition to your outdoor space. We manage the design and construction process, ensuring a smooth transition from concept to completion. From securing the necessary permits to choosing the right materials, we handle the intricacies, building a pool area tailored to your preferences.
Hardscaping Services
Hardscaping adds structure and function to your outdoor space:
Patios: Choose from a variety of materials such as natural stone, brick, or pavers to create a patio space that suits your style.
Retaining Walls: Well-designed retaining walls can manage slopes and add visual interest to your landscape.
Outdoor Kitchens: Take your culinary experiences outdoors with a functional and aesthetically pleasing outdoor kitchen.
Fire Pits: Enjoy outdoor gatherings around a custom-built fire pit, ideal for cooler evenings.
Walkways and Paths: Create accessible and visually appealing pathways to connect different areas of your outdoor space.
Our team ensures each hardscaping element, from pergolas to fences, is in compliance with local building codes, facilitating inspections as necessary.
Softscaping Services
Softscaping is about bringing color and life to your outdoor spaces. Our horticulture experts select plants, trees, and flowers that complement your home's architecture and the natural surroundings, ensuring alignment with Mundelein's approved plant list.
Water Features
Water features can add a calming ambiance to your landscape. We design and construct a variety of water features, from ponds and fountains to waterfalls, managing the permitting process in Mundelein as required.
Lightscaping (Landscape Lighting)
Effective landscape lighting can enhance the safety and aesthetics of your outdoor space. We design lighting solutions that highlight the key features of your landscape, from accent lighting to path lights, enhancing nighttime visibility and aesthetics.
White Glove Service
Our white glove service reflects our commitment to delivering a seamless and satisfactory project experience from start to finish. We ensure clear communication, transparency in material and service charges, and adherence to project timelines, providing a structured yet flexible approach to realize your outdoor living aspirations.
Landscape Designer Consultation
Understanding Your Property's Needs
Getting the right landscape design starts with understanding the specifics of your property. Take into account the size and layout of your yard along with your personal style preferences. If you lean towards a traditional look, you might prefer having classic rose bushes and neat hedges. On the flip side, a modern design could have sleek hardscapes with minimal plantings. Also, consider a more natural look with native plants and wildflowers. The design of your home should mesh well with your landscape choice. For example, a colonial home might look great with a classic garden, while a modern home could be paired with a contemporary design. Whatever your style, we're here to create a landscape design that will make your outdoor space come alive.
Choosing a Local Designer
If you're considering a landscape designer, it's crucial to choose someone familiar with Mundelein, IL. The area's unique micro-climates and soil conditions could affect your project, so a local designer would be better suited to meet your needs. Take a look at their past projects and portfolio to get a sense of their style and experience. It's a good sign if they have a history of working with residential properties in the area as they'll understand the unique challenges and requirements. Going with a reputable and experienced landscape designer is a step towards realizing your outdoor vision.
Eco-friendly Material Selection
As more homeowners become environmentally conscious, the shift towards eco-friendly landscaping materials is noticeable. Options like wood mulch and cedar mulch are natural and biodegradable, making them great for the environment. It's also essential to consider your soil type when choosing mulch since different soils may require different kinds. Additionally, think about the overall sustainability of your landscape design. Using native plants, which adapt well to the local climate and require less maintenance, is a good idea. Also, consider incorporating water-saving features like rainwater harvesting or drip irrigation systems. By thinking about the environment and sustainability in your landscape design, you can create a beautiful yet responsible outdoor space.
Navigating Permitting with Ease
Embarking on a landscaping or construction project in Mundelein necessitates navigating the permitting process. This procedure ensures that all projects align with the village's standards for safety, aesthetics, and functionality. Here's a glimpse into the permitting journey with the Mundelein Building Department:
Initiating the Process: The journey begins with the Building Permit Application form, available at the Building Department located at 300 Plaza Circle, Mundelein, IL 60060, or online. The form captures essential project details, including the project address, description, applicant and contractor information.
Project Categories: Projects are categorized based on their nature and scope into Single Family, Multi-Family, Commercial, Industrial, Mixed-Use, or Public. Furthermore, the form details the square footage involved in new constructions, additions, or alterations.

Minor and Standard Projects:

The Mundelein Building Department form differentiates between minor and standard projects, each with its own set of activities. Here's how some of the services offered by Wave Outdoors Landscape + Design align with these categories:

Minor Projects: These are smaller-scale projects that typically require less extensive planning and construction efforts. According to the form, minor projects in the realm of services provided by Wave Outdoors Landscape + Design include:

Driveway Resurfacing: Giving your driveway a new lease of life by resurfacing it with high-quality materials.
Fence Installations: Enhancing the boundaries of your property with professionally installed fences.
Brick Paver Patio and Walkways: Adding aesthetic and functional value to your outdoor spaces with brick paver patios and walkways.

Standard Projects: These are more extensive projects that necessitate a deeper level of planning, construction, and possibly, inspection. The standard projects relevant to the services provided by Wave Outdoors Landscape + Design as per the form include:

Deck Construction: Crafting durable and aesthetically pleasing decks to extend your living space outdoors.
Swimming Pool, Above Ground: Designing and installing above-ground swimming pools for a refreshing outdoor experience.

Contractor Licensing: Mundelein mandates all contractors and subcontractors to be licensed. This requirement ensures that all professionals engaged in your project adhere to the stipulated standards of quality and safety.
Expiration and Occupancy Certificate: It's crucial to note that the permit application expires if a permit is not obtained within six (6) months after its submission and acceptance by the village. Post-project, a request for a Certificate of Occupancy must be made 24 hours in advance and only after passing the final building, fire, and engineering inspections.
The structured permitting process in Mundelein is designed to ensure that every project meets the designated standards, ensuring the safety, functionality, and aesthetic appeal of the constructed environments. Our team at Wave Outdoors Landscape + Design is adept at steering through the permitting process, ensuring a hassle-free project execution for our clients.
About Mundelein, IL
Mundelein, a picturesque village nestled in the heart of Lake County, is a place brimming with historical depth and a vibrant community of over 30,000 residents. Tracing back to its roots, the area now known as Mundelein has been a hub of activity since at least 1650, marked by the presence and trade activities of the Potawatomi people with French fur traders. The 19th century saw the arrival of European settlers, marking a new chapter in its evolving narrative​​.
Officially incorporated in 1909, Mundelein transitioned from a quaint farming community to a lively township and business center, becoming an essential part of Lake County, Illinois. Over the years, its population grew, and as of now, it's home to nearly 32,000 residents. This growth symbolizes Mundelein's transformation into a residential haven housing notable educational institutions like the University of Saint Mary of the Lake, which adds a touch of scholarly ambiance to the village's character​.
Spanning a total area of 9.97 square miles, Mundelein's landscape is a blend of gentle rolling hills and water bodies, with 9.6 square miles of land and 0.37 square miles of water. Seminary Hill, standing tall at 879 feet above sea level near the village's geographical heart, is a notable point, adding a touch of natural elevation to the village's gentle topography.
Mundelein doesn't just stop at being a residential and educational hub; it extends its charm to a buoyant local economy and a serene suburban atmosphere, offering an exceptional quality of life to its residents. The village's strong industrial base, great housing values, and substantial property investments paint a promising picture of stability and growth. Its excellent location and access, coupled with a flourishing downtown, earmark Mundelein as an ideal place for redevelopment and growth, fostering a sense of community and opportunity​.
The village's history, natural beauty, and promising opportunities make it an attractive place for residents and visitors alike, offering a slice of tranquility and potential amidst the bustling activity of Lake County.
Wave Outdoors Landscape + Design
We worked with Mary from Wave Outdoors for our landscaping project. She was thorough and thoughtful in her plan and consistent in communication. Mary earned trust by showing options that would have longevity- native plants, placing plants in shade vs non-shade, and watering solutions. Ultimately, we're so happy with the warmth the design has brought our home, and we look forward to seeing it continue to grow.

Read More

Wow!!! We had a wonderful experience with Wave Outdoors. Wave Outdoors is located in Mount Prospect which was appealing to me to support local businesses.

Brian worked with us from start of finish. He came and walked our property in the beginning and really listened to our ideas and also incorporated his own landscape design expertise. He walked us through his beautiful design and made recommendations for trees, shrubs, and plants that would be successful in our zone.

Our curb appeal went up 1000%. While I have been out watering many people have stopped and commented on how beautiful everything looks. Some have even asked if they could snap a picture or two. 😎

The crews that came in and took all of the old landscaping out, were here each day on time and left the area neat and clean when they were finished for the day.

THANK YOU Wave Outdoors and Brian Dreher for helping to guide us with this project. It truly has been a pleasure working with Wave Outdoors. I would highly recommend Wave Outdoors for any landscaping design, installations, or any other outdoor needs you may have.

Sincerely,

Colleen and Michael Moreno

Read More

Our back yard garden bed (partly in sun, partly in shade), along the rear property line, was in need of some landscaping. Over the nearly 40+ years we have lived here, we had randomly planted several lilac bushes, a few hosta plants, several patches of narcissus, some pachysandra, and a small number of ferns, but there was no unifying design. Everything we had planted competed with weeds and unwanted brush that had sprouted up around them. We had always wanted to look out our kitchen window and see a beautifully planned display of perennials, shrubs, and trees and finally decided to do something about it.
We found Wave Outdoors and started working with designer Mary DiCarlo last fall, after we cleared much of the bed of unwanted foliage and installed a backyard fence to allow our newly adopted rescue dog to run free. We were looking to get a design created and the landscaping installed early this spring.
Over the fall and winter months, Mary worked with us via several on-site visits, email exchanges, and Zoom sessions to finalize a design. Mary was a careful listener and tried to incorporate our wishes from the start, while making several small adjustments to the design several times at our request. Just a few days before the installation, when a particular specimen tree she had planned for us was in short supply, Mary made several weekend visits to local garden centers to find us the perfect tree. This was above and beyond the call of duty!
The installation work was planned for two days in late April, but was completed by the Wave Outdoors 3-man crew, led by Rob, in a single day. Good timing, because the next day it rained almost all day, giving the plantings a good drink. The crew worked hard all day, doing additional unplanned tasks, such as trimming overhanging branches to make room for newly-planted (but sure to grow tall eventually) spruce trees, and also repairing some lawn spots from our dog. They also cleaned up better than any crew who has ever worked on our property.
We are so happy with the finished result already, but knowing that perennials operate in a "sleep, creep, leap" fashion in the three years after planting, we expect the bed to look fantastic over the next 2-3 years as the plantings mature. The plantings were designed to be a mixture of tall, medium, and short heights, of a variety of textures and foliage color, with bloom colors expected in at different times in spring, summer, and fall. The evergreen plantings will remain blue-green throughout the year.
We highly recommend Wave Outdoors and designer Mary DiCarlo for your landscaping needs (they do hardscaping also)! The entire process was well-documented with excellent communication from start to finish. Any small issues found after installation were taken care of very quickly. Initial and final payments were easy using Zelle, but Wave Outdoors also accepts personal checks and credit cards.
Looking forward to warmer weather when we can be outside on our patio enjoying our beautiful new landscape!

Read More

We worked with Brian on landscaping and hardscaping for our Lincoln Park townhome, and they did such an amazing job that two of our neighbors asked for his contact information and at least one of them moved forward with Wave Outdoors too!

Our 100% satisfaction started with consultation on design for a paver patio replacement that includes a small retaining wall and various shrubs/ground cover in several garden beds in the front and side of our home. Brian pointed us to a nearby distributor to choose among Unilock pavers then coordinated three complementary products for the patio itself, the wall, and the wall topper. We are busy professionals and wanted low maintenance landscaping, and Brian's knowledge of good plants for our climate and lifestyle was spot-on.

After an informative design phase (with two in-person appointments that Brian kept reliably and that also included some hand-holding with our HOA to secure necessary approvals), the work crew arrived promptly on the appointed date and worked quickly to complete the entire job in only 3 or 4 days from demolition/removal of the old patio to installation of all hardscaping, plants, and ground cover. We immediately had the nicest patio of anyone in our complex of 48 units, and the high quality generated a lot of neighborhood "buzz" given how visible Brian and his crew's work is for everyone in the complex.

Our only regret is that we didn't go with the sprinkler system that Brian proposed at a reasonable incremental cost that would have saved many, many hours of watering during summer months. We would wholeheartedly recommend Wave Outdoors for any job large or small!

Read More

We had a wonderful experience working with Brian and the Wave crew for our backyard renovation. We wanted a complete gut out of our existing yard so we could start from scratch. Brian started by providing us with a design and worked with us to make sure the yard would be functional, fit our budget and looked beautiful. The end result turned out better than we imagined and we have a completely transformed space. I would definitely recommend if you are looking for someone honest, creative, and does the job right!

Read More