Custom Pergola Creation by Expert Builders
Pergola Structures by Trusted Pergola Contractors
Pergolas are more than mere outdoor structures; they represent an extension of your living space, bringing a blend of nature and comfort to your doorstep. Their distinct architectural design, characterized by sturdy beams and open spaces, allows for nature to intertwine seamlessly with crafted wood or metal. The allowance for crawling vines creates a natural canopy, offering a shaded retreat that harmonizes aesthetic appeal with functionality.
In the bustling urban setting of Chicago, pergolas introduce a touch of serenity and elegance, providing a refreshing escape in your very backyard. Their design complements the modern lifestyle while offering a nod to nature's soothing aesthetics.
Pergola Installations in the Chicago Area
For homeowners and property managers in Chicago, the addition of a pergola can significantly enhance the aesthetic and functional value of an outdoor space. The Windy City, with its diverse architectural landscape and changing seasons, provides a picturesque backdrop for pergolas. These structures not only add a visual appeal but also create a functional, versatile space that can be used across seasons.
The design flexibility of pergolas makes them a popular choice among individuals seeking to enhance their outdoor living spaces. They offer a unique opportunity to create a personalized outdoor haven, be it for relaxation, entertainment, or showcasing garden flora.
Furthermore, the well-thought-out design of a pergola provides a structured open space that can be adorned with drapes, lights, or outdoor furniture, making it an inviting spot for relaxation or social gatherings. It's an investment that not only amplifies the beauty of your outdoor area but also adds a tangible value to your property, making it a sought-after feature among potential buyers or tenants.
In a city that celebrates architectural diversity and outdoor living, pergolas seamlessly find their place, enhancing the outdoor living narrative for both homeowners and property managers in Chicago. Their addition reflects a tasteful choice for modern living, blending the urban lifestyle with a touch of nature's tranquility.
Harvesting Benefits from Your New Pergola
Homeowner Advantages: A Lifestyle Upgrade
A pergola, meticulously crafted by skilled pergola builders, does more than just beautify your outdoor space; it elevates the quality of your outdoor living. Imagine stepping out into your backyard to a designated space where the natural light filters through climbing roses or wisteria. It's a space that invites you to unwind, entertain, or indulge in personal hobbies. The versatility of a pergola means you can have an open-air dinner venue one evening and by the next morning, it transforms into a serene spot for yoga or reading.
Moreover, a custom pergola is a tangible reflection of your aesthetic and lifestyle preferences. Whether you opt for a modern sleek design or a classic rustic look, it's a statement of personal style that enhances the character and charm of your home.
Investing in a pergola also equates to investing in the value of your property. It's a feature that prospective buyers often find appealing due to the added functional space and aesthetic charm it provides. The right pergola can significantly boost your property's curb appeal, making it a smart investment that you get to enjoy daily.
Property Manager Benefits: Enhancing Appeal and Value
For property managers, integrating a pergola into the landscape is a strategic move towards increasing the property's appeal and functionality. A pergola serves as a distinctive feature that sets the property apart in a competitive market. Prospective tenants or buyers often see it as a value addition since it offers a unique outdoor living experience. It's an amenity that suggests thoughtfulness in design and a focus on enhancing the quality of living.
Furthermore, a pergola expands the usable space of the property. It can serve as an outdoor extension for communal activities, be it a barbecue area or a shaded spot for residents to relax and socialize. The functionality of a pergola extends beyond mere aesthetics; it offers a space where a community can engage and interact.
The aesthetic transformation that a pergola brings can also be leveraged in marketing the property. Picturesque images of a pergola adorned with lush greenery and blooming flowers provide visually appealing content for listings and promotional material.
Additionally, the long-term durability and low maintenance nature of pergolas make them a cost-effective addition. They require minimal upkeep while offering a lasting aesthetic and functional benefit.
In a market where every feature counts, a pergola is more than just a visual delight; it's a strategic asset that enhances the value and appeal of the property, making it more attractive to prospective tenants or buyers.
We worked with Mary from Wave Outdoors for our landscaping project. She was thorough and thoughtful in her plan and consistent in communication. Mary earned trust by showing options that would have longevity- native plants, placing plants in shade vs non-shade, and watering solutions. Ultimately, we're so happy with the warmth the design has brought our home, and we look forward to seeing it continue to grow.

Read More

Wow!!! We had a wonderful experience with Wave Outdoors. Wave Outdoors is located in Mount Prospect which was appealing to me to support local businesses.

Brian worked with us from start of finish. He came and walked our property in the beginning and really listened to our ideas and also incorporated his own landscape design expertise. He walked us through his beautiful design and made recommendations for trees, shrubs, and plants that would be successful in our zone.

Our curb appeal went up 1000%. While I have been out watering many people have stopped and commented on how beautiful everything looks. Some have even asked if they could snap a picture or two. 😎

The crews that came in and took all of the old landscaping out, were here each day on time and left the area neat and clean when they were finished for the day.

THANK YOU Wave Outdoors and Brian Dreher for helping to guide us with this project. It truly has been a pleasure working with Wave Outdoors. I would highly recommend Wave Outdoors for any landscaping design, installations, or any other outdoor needs you may have.

Sincerely,

Colleen and Michael Moreno

Read More

Our back yard garden bed (partly in sun, partly in shade), along the rear property line, was in need of some landscaping. Over the nearly 40+ years we have lived here, we had randomly planted several lilac bushes, a few hosta plants, several patches of narcissus, some pachysandra, and a small number of ferns, but there was no unifying design. Everything we had planted competed with weeds and unwanted brush that had sprouted up around them. We had always wanted to look out our kitchen window and see a beautifully planned display of perennials, shrubs, and trees and finally decided to do something about it.
We found Wave Outdoors and started working with designer Mary DiCarlo last fall, after we cleared much of the bed of unwanted foliage and installed a backyard fence to allow our newly adopted rescue dog to run free. We were looking to get a design created and the landscaping installed early this spring.
Over the fall and winter months, Mary worked with us via several on-site visits, email exchanges, and Zoom sessions to finalize a design. Mary was a careful listener and tried to incorporate our wishes from the start, while making several small adjustments to the design several times at our request. Just a few days before the installation, when a particular specimen tree she had planned for us was in short supply, Mary made several weekend visits to local garden centers to find us the perfect tree. This was above and beyond the call of duty!
The installation work was planned for two days in late April, but was completed by the Wave Outdoors 3-man crew, led by Rob, in a single day. Good timing, because the next day it rained almost all day, giving the plantings a good drink. The crew worked hard all day, doing additional unplanned tasks, such as trimming overhanging branches to make room for newly-planted (but sure to grow tall eventually) spruce trees, and also repairing some lawn spots from our dog. They also cleaned up better than any crew who has ever worked on our property.
We are so happy with the finished result already, but knowing that perennials operate in a "sleep, creep, leap" fashion in the three years after planting, we expect the bed to look fantastic over the next 2-3 years as the plantings mature. The plantings were designed to be a mixture of tall, medium, and short heights, of a variety of textures and foliage color, with bloom colors expected in at different times in spring, summer, and fall. The evergreen plantings will remain blue-green throughout the year.
We highly recommend Wave Outdoors and designer Mary DiCarlo for your landscaping needs (they do hardscaping also)! The entire process was well-documented with excellent communication from start to finish. Any small issues found after installation were taken care of very quickly. Initial and final payments were easy using Zelle, but Wave Outdoors also accepts personal checks and credit cards.
Looking forward to warmer weather when we can be outside on our patio enjoying our beautiful new landscape!

Read More

We worked with Brian on landscaping and hardscaping for our Lincoln Park townhome, and they did such an amazing job that two of our neighbors asked for his contact information and at least one of them moved forward with Wave Outdoors too!

Our 100% satisfaction started with consultation on design for a paver patio replacement that includes a small retaining wall and various shrubs/ground cover in several garden beds in the front and side of our home. Brian pointed us to a nearby distributor to choose among Unilock pavers then coordinated three complementary products for the patio itself, the wall, and the wall topper. We are busy professionals and wanted low maintenance landscaping, and Brian's knowledge of good plants for our climate and lifestyle was spot-on.

After an informative design phase (with two in-person appointments that Brian kept reliably and that also included some hand-holding with our HOA to secure necessary approvals), the work crew arrived promptly on the appointed date and worked quickly to complete the entire job in only 3 or 4 days from demolition/removal of the old patio to installation of all hardscaping, plants, and ground cover. We immediately had the nicest patio of anyone in our complex of 48 units, and the high quality generated a lot of neighborhood "buzz" given how visible Brian and his crew's work is for everyone in the complex.

Our only regret is that we didn't go with the sprinkler system that Brian proposed at a reasonable incremental cost that would have saved many, many hours of watering during summer months. We would wholeheartedly recommend Wave Outdoors for any job large or small!

Read More

We had a wonderful experience working with Brian and the Wave crew for our backyard renovation. We wanted a complete gut out of our existing yard so we could start from scratch. Brian started by providing us with a design and worked with us to make sure the yard would be functional, fit our budget and looked beautiful. The end result turned out better than we imagined and we have a completely transformed space. I would definitely recommend if you are looking for someone honest, creative, and does the job right!

Read More
Our Process
Dive into Initial Site Evaluation
At Wave Outdoors, the journey to your custom pergola begins with an in-depth site analysis carried out by our skilled pergola contractors. This crucial first step involves assessing the existing landscape, understanding your preferences, and analyzing the environmental factors that could influence the design. It's not merely about taking measurements; it's about envisioning how the pergola will harmonize with your outdoor space to create a cohesive, functional, and beautiful extension of your home. Our experts will also identify any potential challenges and devise solutions right from the outset, laying a solid foundation for a successful project.
Navigating Through Planning and Implementation
Armed with the insights from the site evaluation, our seasoned professionals transition to the planning phase. Utilizing advanced 3D design tools, we collaborate with you to fine-tune the design, ensuring it resonates with your lifestyle and aesthetic preferences. We believe that every pergola we build should be a reflection of the homeowner's or property manager's vision, merged with our expertise for a flawless realization. The implementation phase is where your dream starts to materialize. Our pergola builders meticulously follow the design blueprint, adhering to the highest standards of workmanship, ensuring every beam, every joint, and every finishing touch echoes perfection. We keep you informed and involved at every stage, making sure the project aligns with your expectations.
A Final Walkthrough
The journey concludes, but our commitment doesn't. Once the pergola is installed, a final walkthrough is conducted to ensure every detail is up to par with your expectations and our stringent quality standards. It's an opportunity for you to inspect the craftsmanship, functionality, and aesthetics of the pergola. Your satisfaction is our priority, and this final step underscores our dedication to delivering a pergola that you'll cherish for years to come.
Why Wave Outdoors is Your Go-To Choice for Pergola Builders
A Display of Awards and Credentials
Our reputation is backed by a slew of accolades and credentials that underline our commitment to excellence in pergola installations. Our recognition in the industry is a testament to the quality, innovation, and customer satisfaction that are the hallmarks of Wave Outdoors Landscape + Design.
Harnessing Years of Expertise and Advanced Equipment
With a rich history spanning over many years, Wave Outdoors Landscape + Design has emerged as a formidable player in the realm of pergola creation. Our journey is adorned with numerous successful projects, happy homeowners, and enduring structures that continue to add value and beauty to properties. Our arsenal of innovative technology and advanced equipment, combined with the seasoned expertise of our pergola installers, ensures the delivery of a product that stands as a benchmark of quality and aesthetics. Our approach blends traditional craftsmanship with modern technology to deliver pergolas that are not only visually stunning but are built to last, providing you with a space to create countless memories.
Real Examples

Take a look at a 3D Designs that incorporate pergolas (use the circles to navigate and hold the image to move around):

 Large modern project with StuXure Pergola, Outdoor Kitchen, Spa & Garden
Navigating the Legal Landscape: Permits and Regulations
Acquiring Necessary Permits for Your Pergola
Embarking on a pergola installation project in the Chicago area entails navigating through the local permitting process. Obtaining the necessary permits is a crucial step to ensure that your pergola project complies with all local regulations. The first step typically involves submitting a building permit application to the local municipality. This application may require accompanying documents such as plans, specifications, structural calculations, and estimates of costs, among other things.
The permitting process aims to ensure that your pergola will be structurally sound and will adhere to local zoning regulations, which may have specifications regarding the size, location, and design of your pergola. While the process might seem daunting, especially given the varying requirements across different localities, Wave Outdoors Landscape + Design is here to ease the way. Our experts are well-versed in local regulations and can help guide you through every step of the permitting process, ensuring that your pergola project is compliant with all necessary standards.
It's essential to note that the requirements may vary from one locality to another within the Chicago area. Each particular location will have its own specific requirements when it comes to pergola permits. With Wave Outdoors by your side, you can navigate through the permitting process with ease, making your pergola project a smooth and enjoyable venture.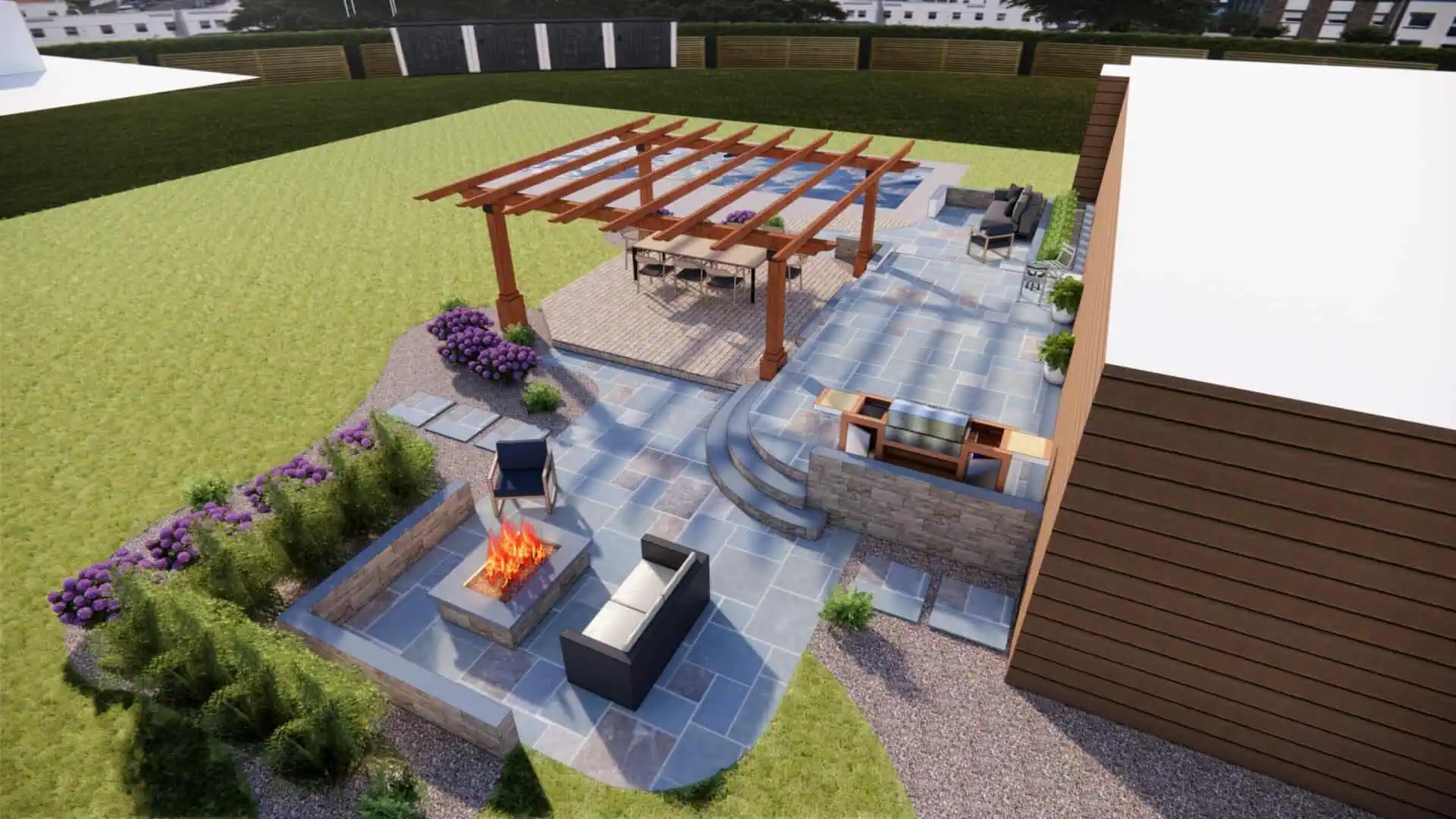 Types of Pergolas
Freestanding Pergola:

Exists separately from your dwelling or other structures.
Perfect for crafting distinct outdoor living areas, whether beside a pool or within a garden.

Attached Pergola:

Joins to the residence, broadening the indoor ambiance outdoors.
Furnishes shade and form to patio or deck zones.

Steel and Aluminum Pergolas:

Renowned for their durability, capable of enduring severe weather elements like potent winds or hefty snowfall.
Demand minimal upkeep due to their resistance against pests and decay.

Fiberglass Pergola:

Generally priced higher owing to its robustness.
Can bridge extended spans without the need for extra support posts, presenting a sleek, unobstructed appearance.

Traditional Pergola:

Celebrated for its enduring aesthetic appeal, characterized by classic architectural elements like columns and structural nuances.
Harmonizes well with traditional residences and garden environments, typically crafted from wood or vinyl with a wooden appearance.

Modern Pergola:

Marked by sleek lines and a minimalist design, commonly constructed from wood, aluminum, or vinyl.
Catering to modern aesthetic tastes, it is adaptable enough to align with diverse architectural themes and exterior hues.

Garden Pergolas:

Frequently serve as trellises for dangling plants and climbing foliage.
Amplify garden areas and furnish a structured zone for plants like clematis, trumpet vine, climbing roses, ivy, and wisteria to flourish.
These assorted pergola styles provide a broad spectrum of aesthetic and functional advantages, enabling homeowners and property managers to select a design that optimally complements their outdoor domain and personal predilections. The selection of material and design considerably influences the pergola's visual appeal, durability, and maintenance requisites, facilitating a customized strategy for enriching outdoor living areas.
Contact Wave Outdoors Landscape + Design for Your Pergola Project
Communication: Your Initial Step
Ready to enhance your outdoor space with a pergola? Reach out to us. Our team is here to answer your questions and guide you through the process of pergola creation.
Seamless Interaction for a Rewarding Experience
We value clear communication and responsiveness, ensuring a smooth process from initial contact to project completion.
Explore the Benefits of Pergolas
Pergolas are more than aesthetic additions; they offer functional benefits transforming your outdoor space into a versatile living area.
Preparing for Your Pergola Project
Embrace the potential of your outdoor space. Contact us to discuss your pergola project and learn how Wave Outdoors Landscape + Design can help turn your vision into reality.
Discover the Wave Outdoors Difference
Experience the transformative power of professionally designed pergolas. Your journey towards an enhanced outdoor space begins with Wave Outdoors Landscape + Design. Reach out to initiate your project.
Spring is associated with a lot: renewal, rejuvenation, rebirth, resurrection, and regrowth.  Indeed after winter,...